ULMA Rapidlock®, the new locking system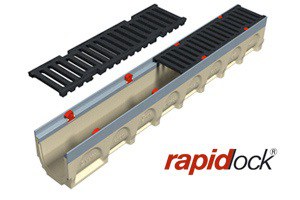 ULMA  presents the innovative Locking system Rapidlock® .
The fast and boltless ULMA Rapidlock fastening system makes possible to connect the grating to the channel body quickly, safely and practically effortlessly
Advantages ULMA RapidLock®
One-second fastening
Tool-free installation
Save on labour costs
Easy maintenance
Mechanical Stability, with 8 fastening points.
Its 8-point fastening system provides higher stability and stress distribution throughout the grating and the channel.
Multiple fastening options
Rapidlock® and screw-fastened systems can be replaced and combined:
Even with already installed channels.
No need to replace the grating.
By simply replacing the fastening components.
Ask for a quote/information