Special drainage channel systems for football pitches
Are you planning a football pitch and seeking to avoid flooding?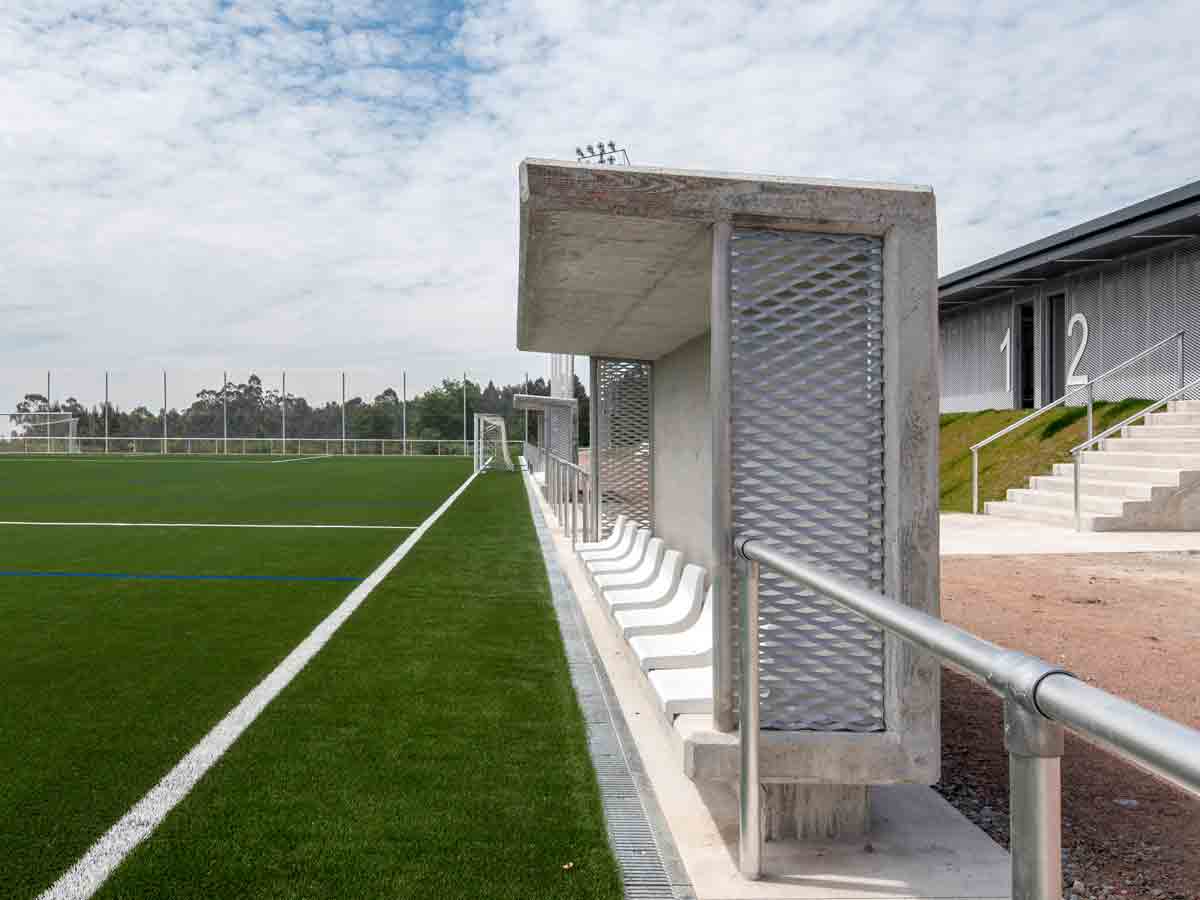 Take a look at the solution we have installed on the Gatomorto pitch.
The Gatomorto football pitch is located in Xeve, Galicia, in northwestern Spain.
ULMA's involvement in this type of project is important when the intention is to lay artificial grass and the main aim is to reduce flooding to a minimum.
 250 linear metres of the Sport range SU200 model were installed. These drainage channels, made of polymer concrete, have a useful width of 200 mm and feature a rounded edge specially designed for artificial grass pitches. This enables better adjustment and attachment of the grass to the channel, thus providing a perfect fit of the elements.
 Another benefit of this model is that, due to its remarkable hydraulic capacity, it allows the drainage network system to be redesigned, with the aim of removing the parallel collector (and its intermediate sump units).
The SU200 channel allows the option of implementing a cascaded slope via four channels with different external heights of between 240 and 390 mm, reducing the perimeter outputs to two, thanks to the sump units designed specifically for this purpose. This makes it possible to have several bodies with different heights and different output diameters.
With the support of our technical department and using our Optimal drain hydraulic calculation program, we are able to optimise the distribution of the drainage system, thus reducing installation times and associated costs.
As you can see, multiple factors make this solution suitable.
Thanks to its design, it improves the attachment of the artificial grass to the channel.
It has a remarkable hydraulic capacity.
It provides the option of installing it with a cascaded slope.
It is quicker to install due to the reduced number of outputs and the removal of the parallel collector.
This allows you to save time and reduce costs.
We offer drainage channel systems for sports areas. Contact our technical and sales department to discuss your project and receive personalised advice.
TECHNICAL DETAILS OF THE PROJECT:
ARCHITECTS: Estudio Santos-Mera (José

 

Jorge Santos Ogando, José Carlos Mera Rodríguez, Gustavo Pérez Álvarez)
DEVELOPER:

 

Municipality of Pontevedra
Drainage channel system:

 

250 linear metres of SU200 + GN200UCA GRATING made of galvanised steel, slotted for load type A15
PHOTOGRAPHER: Héctor Fdez. Santos-Díez
Ask for a quote/information