Do you know about slot drainage?
We would like to propose the concealed drainage solution for your most striking projects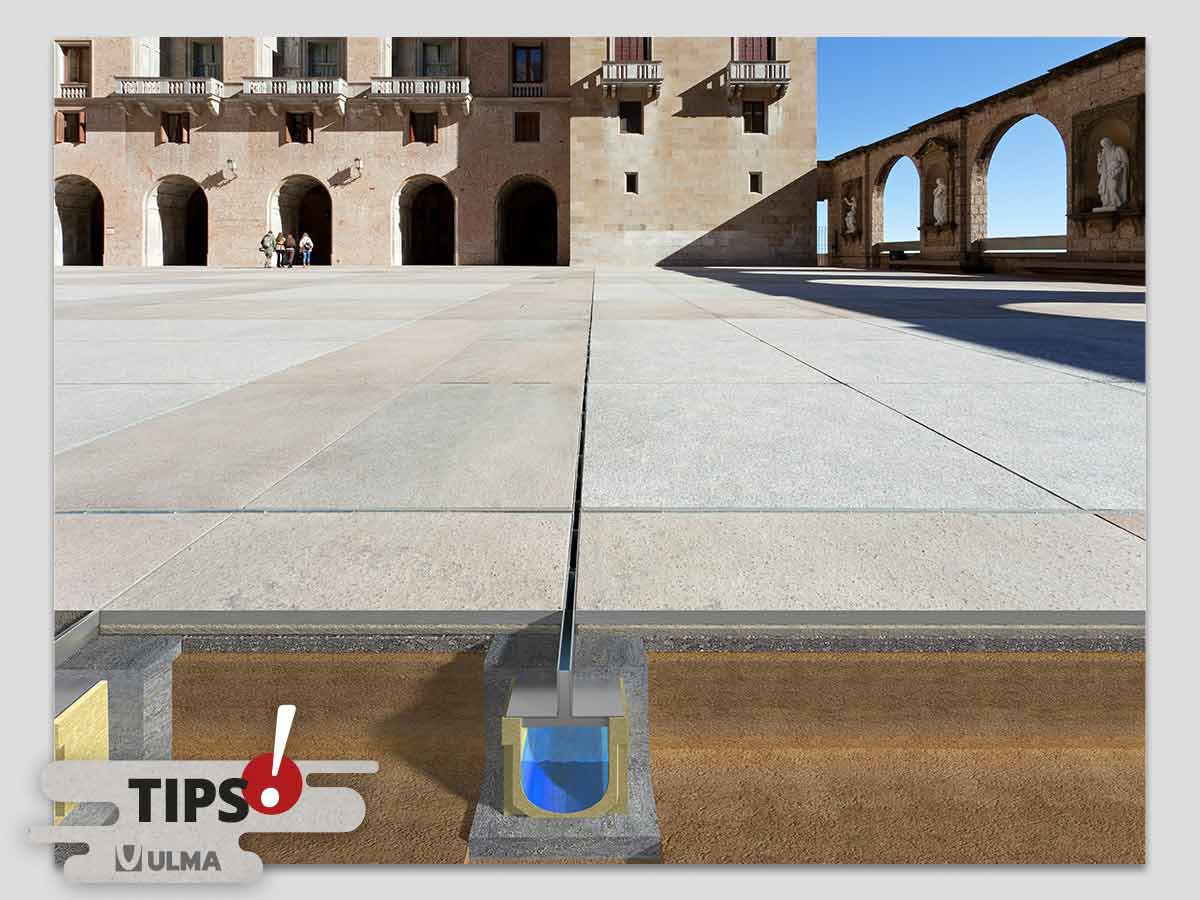 Water drainage in public areas is simple, but it is important enough to still cause a headache or two. If you don't have a good system in place, flooding after rain will be frequent and may cause a number of issues.
The first to use gutters were the Romans in 24 BC, making clay bricks to channel water and mud to drains. They built cities close to rivers and drained wastewater using a sewage system.
These drainage channel systems were accompanied by gratings that allowed the water to filter through. Nowadays, there are all kinds of grating, made of PVC, polymer concrete, galvanized or stainless steel, either folding or fixed, in various sizes and for areas with different loads. However, the vast majority have a similar appearance: the grating is visible.
What happens if you want a solution that almost goes unnoticed and you need the drainage to be concealed?
We would like to propose a simple solution that allows you to add a discreet detail to your projects.
It is the concealed drainage system with ULMA's slot drainage:
This grating forms part of a comprehensive system, consisting of the grating, channel and accessible sump unit assembly.
The system stands out at first glance as it does not affect the overall visual aesthetics, managing to conceal the drain system installed.
This aspect is key when working in historic areas and on new housing developments that seek clean and sophisticated lines. It is ideal for paved areas, natural stone or concrete paving.
It is a simple way of ensuring that the water collection system goes unnoticed, fully camouflaged in the urban landscape.
The single-slot grating has an inverted T shape and can be made of galvanized or stainless steel. It has a slot-shaped collection area that can be either single (15 mm wide) or double (26 mm wide).
It supports a D-400 load type according to the EN1433 standard.
There is also the option of a lateral grating, in an L shape, for areas close to walls.
The single-slot grating is versatile and suitable for roadways, pedestrian streets and parking areas.
What questions might you have about the concealed drainage system?
What is its hydraulic capacity? Its collection flow?
This will vary depending on the model installed, but ranges from 150 cm2/ml to 240 cm2/ml, which is what the double-slot grating collects.
How is the system maintained and cleaned?
The installation of clip-on manholes is required for maintenance and cleaning of the concealed drainage system. They are made according to the same material characteristics and dimensions, allowing them to be taken off in order to remove sediment, blockages or simply to carry out the necessary maintenance.
If you have more questions, you can ask us. Contact us here
Ask for a quote/information