Centro Canalejas: a journey through time
Two drainage systems for an unforgettable building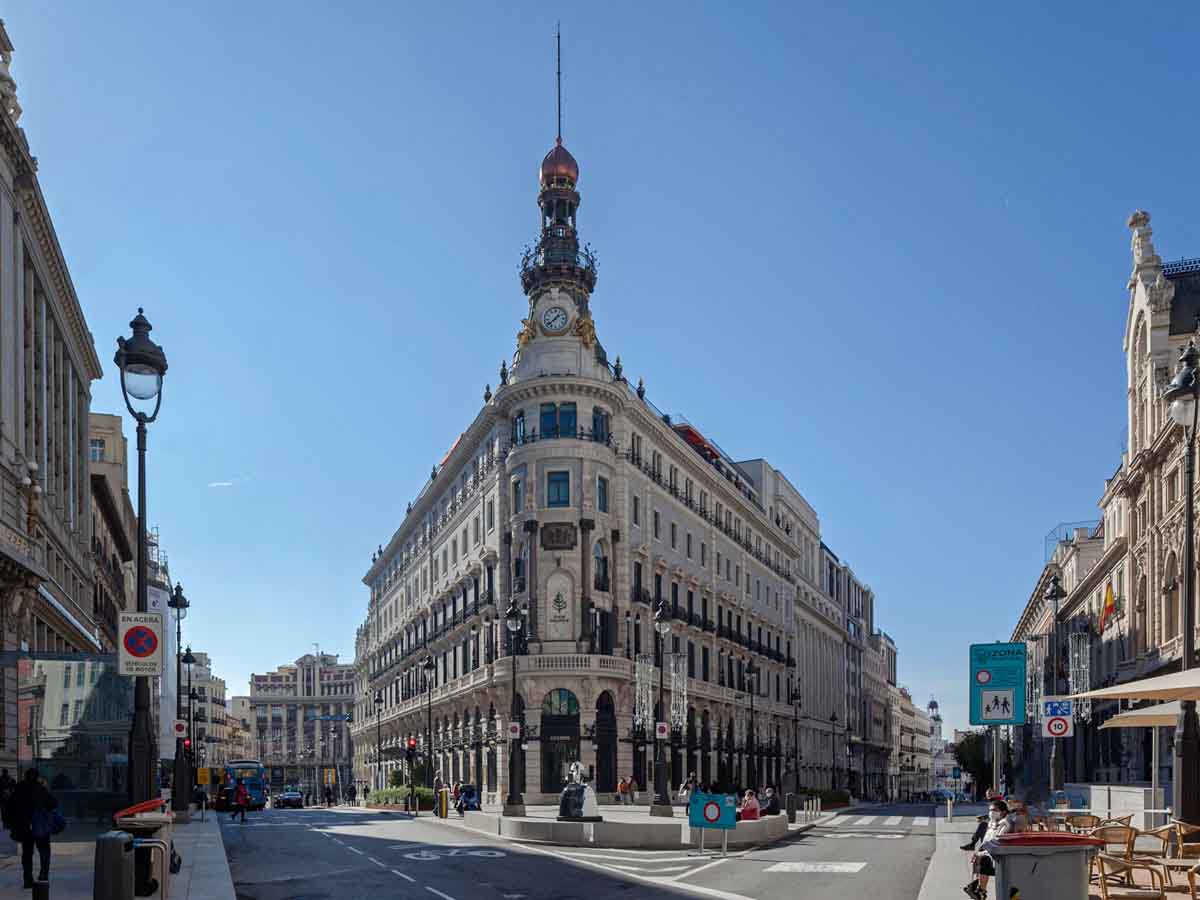 The Centro Canalejas has become Madrid's newest landmark. 
Located in the city centre, a stone's throw away from the Puerta del Sol, the Canalejas project includes the renovation and amalgamation of 7 historical buildings with different styles, two from the end of the 19th century whose facades have been preserved. The bay nearest to the façade is beautifully retained in two of them.
This wonderful work to preserve the historical heritage of the facades allows us to travel back in time. I close my eyes and I can imagine the horse-drawn carriages parading in front of these breath-taking facades two centuries ago. 
Returning these historical buildings to their former glory is something that both moves and inspires us. 
Moreover, it looks stunning, don't you think?
This huge project, designed by the renowned Lamela architecture firm, was completed after seven years of extremely complex engineering and architectural work, overcoming major technical difficulties.
The project consists of a luxury hotel from the Four Seasons hotel chain with 200 rooms, a shopping arcade, 22 luxury apartments and 400 parking spaces.
In addition, as expected, you will only find the top brands in a project of this scale. 
Therefore, we are proud that they chose our drainage channel systems for this major project that is such an iconic and important part of the history of Madrid.
Channels for heavy loads with height restrictions for the underground car park
In the Centro Canalejas, the high-rise building and underground construction are equally important. Four floors had to be excavated underground to create 400 parking spaces.
This is where we installed Civil-S drainage channel systems with cast iron grating. 
These channels designed for areas with height restrictions, making them perfect for underground car parks with several floors, and they are capable of bearing heavy loads from vehicular traffic.
8 attachment points: more durable and stronger
Civil-S channels have an integrated galvanised steel frame and they have 8 attachment points per linear metre. 
It is worth noting that it has 8 attachment points rather than 2 or 4, as this fixing system improves anti-theft security and ensures that the grating is properly seated with the profile. This avoids any unnecessary noise when vehicles pass over it, which is often due to inadequate attachment.
This results in greater stability and more evenly distributed forces along the entire grating and channel, making them safer and stronger. 
This reduces the risk of any breakages or problems in the future and the drainage system has a longer service life. 
If you would like to find out more about our range of drainage channel systems, write to us here.
Minikit drainage channel systems: with the lowest possible height 
We also supplied Minikit low-profile channels with galvanised grating, as the lowest height possible was required to allow installation in areas such as plant rooms for air conditioning and plumbing, as well as on different floors throughout the building, such as basements and intermediate floors.  
Minikit channels are currently one of the lowest-height channels available on the market: with an external height of just 50 mm, they provide a drainage solution for the lowest points of virtually any floor structure area.
Ask for a quote/information