ULMA' s drainage solutions at -REPSOL CAMPUS in Madrid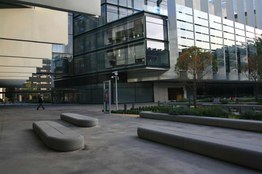 The prestigious architectural firm Rafael de la Hoz Architects is the architect of Campus Repsol, the company's new headquarters opened in Madrid.
ULMA has supplied 1700 meters of linear trench drains for different applications, with one thing in common, they all have installed electropolished stainless steel gratings, indispensable premise requested by the property.
The project stems from the need to group Repsol workers - spread so far in twelve buildings - to facilitate communication and a common place where they can enjoy a natural and functional environment.
For this project, ULMA Architectural Solutions has developed  the SM300F trench drain, which has been installed in the parking area, intended for 2,000 vehicles.
The feature of this channel is that it has a width of 300 mm, with high hydraulic capacity, which supports a load of up to C250 in accordance to Standar EN-1433 but that also has a low height.
In the common areas and the access area to building several channels have been installed:
The channel M150KX  with perforated steel grating,  and the U100 channel with slotted grating.
These applications are ideal for these areas, because the slotted gratings gets visually integrated in the pavement making almost imperceptible their existence. And the perforated grating keeps away  tripping problems with narrow heels. We also found ULMA drainage channels on the terraces and decks of the 4 buildings on campus.
Rafael de la Hoz's team, true to its philosophy, has employed innovative architectural solutions that enhance sustainability, energy efficiency and environmental respect. He has designed a campus that promotes synergies and dynamics of labor among 4,000 members of the corporation. The headquarters consists of four four-story buildings each (covering an area of 123,000 m2) interconnected by an inner garden of 22,000 m2 which creates an atmosphere similar to the cloister of a monastery.
TECHNICAL DATA SHEET.
PROMOTER: REPSOL
BUILDER: SACYR
ARCHITECTURE STUDIO: Rafael de la Hoz Architects
ULMA DRAINAGE CHANNELS USED:
SELF300 with stainless steel electro-polished grating
U100 with  slotted grating
SM300F  with steel grating for up to  class C250
M150KX  with perforated steel grating
S300F  with steel grating for up to  class D400
METRES  INSTALLED: 1,700 ml
Ask for a quote/information