ULMA draingage channels in Malpesa Airport-Italy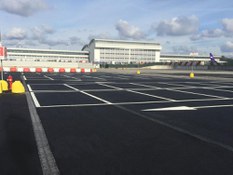 ULMA Architectural Solutions has installed its polymer concrete drainage channels in the P4 car park of Malpensa airport, located close to the city of Milan in Italy Malpensa airport is the intercontinental airport of north Milan, offering a huge range of flights to destinations all around the world.

ULMA Architectural Solutions is the official supplier for airports run by AENA and INFRAERO, two of the largest operators in the world. It has also provided consultancy services and drainage solutions for other airports such as Barajas (Madrid), Malaga, Guarulhos (São Paulo), Brasilia, Rio de Janeiro and Mexico.

Specifically, the drainage channels installed in Malpensa car park are the MULTIV+ range, measuring 150 mm wide. A total of 400 metres has been installed, satisfying all the requirements of the car park.

It is worth noting that MULTIV+ drainage channels provide all the benefits of the other ranges in a single system: the economy of the SELF system, the reduced height of the MINI, the 8-point attachment of the F range and the cascading slope possibiities of the URBAN system..