PSA works in Douvrin: how to reduce the building costs thanks to the drainage system
Over 700 linear metres installed in the new car park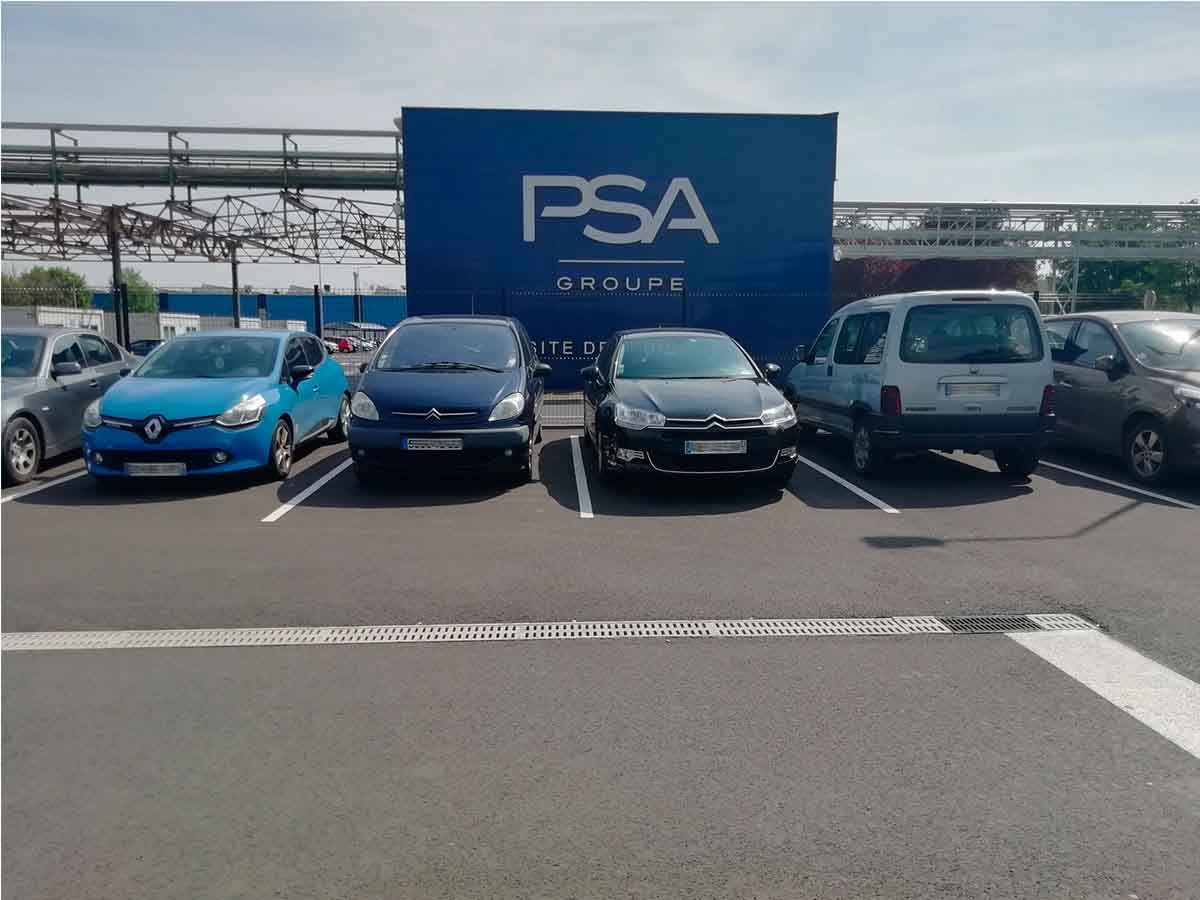 The Peugeot Citroën Group's factory in Douvrin, in the north of France, plays a key role in global industry as it produces nearly 5% of the world's engines for light vehicles and it employs 3,600 people.
In 2018, due to a reorganisation, the management decided to issue a call for tenders with the aim of constructing a new building. The increase of employees and visitors warranted the creation of a new car park with an efficient drainage system.
The added value of ULMA's proposal: fixing to the existing floor slab
The ULMA team recognised the challenges: we proposed a lower cost project by planning the installation of the car park's drainage channel systems within the existing floor slab after making a single cut, without the need for complicated earthworks beforehand.
The KOMPAQDRAIN channel is 500 mm high, which allows it to be fixed to the existing floor slab, to provide better foundations. This enabled us to optimise the channel's load and concrete bedding, achieving the outlet configurations and vertical alignment required for optimal drainage, without having to increase the channel's size.
If you want to have professional advise for your drainage or canalization project, write us here.
Outstanding efficiency
In addition, given the heavy traffic expected in the car park, the KOMPAQDRAIN channel is a monolithic channel, providing added safety for users. 
The Max Flow effect of KOMPAQDRAIN channels, created by the widening the rainwater collection inlets, helps to channel the water more efficiently and increase the drainage speed.
The benefit: Reduced obstruction of the inlets and the self-cleaning effect lead to less system maintenance.
A significant reduction in implementation costs, less complicated works than originally anticipated and safety guaranteed for users: these are all of the benefits offered by ULMA for a winning project!
Ask for a quote/information