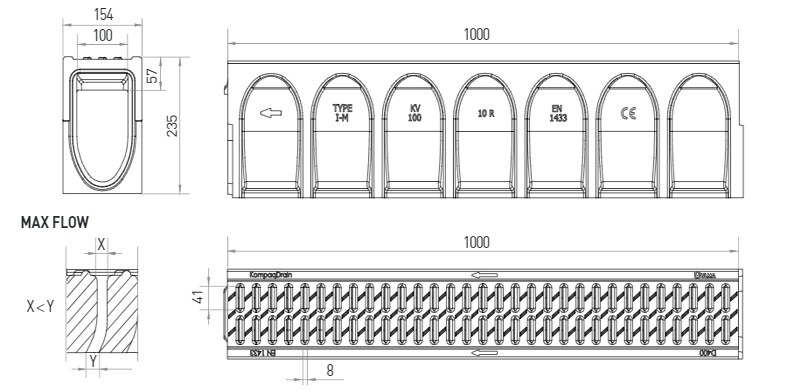 Linear Drainage Channel model ULMA KompaqDrain® City KVDH100, with an integral grating, presented in one-piece and manufactured by high resistant Polymer Concrete. Vandal – proof and corrosion resistant. Load class up to D-400, for all type of vehicles crossing and with reduced capture holes of 8 mm.
With "V" optimized shaped and capture holes with MAX-FLOW® geometry: self-cleaning effect at a low flow, increase at maximum flow and positive opening in order to avoid dirt blockage, for areas without slope. Active surface for cutting of water sheet and for its driving to uptake holes and with non-slippery protuberances.
Male and female horizontal and vertical alignment and perimetral preformed groove to facilitate joint sealing in 360º. The register and the sump unit include: cast iron grating FNHX100FTDM, lateral preforms for horizontal outlets on each side and lateral preforms for connections in T, L and in cross.
Channel options
CHANNEL CODE

L
(mm)
Alt total
(mm)
Width (mm)
Output Diam. (mm)
Hydraulic section
(cm)
Units
(x pallet)
Peso
(Kg)
Qmax
(l/s)
Exterior
Interior
Vert.
Horiz.
KVDH100.10R
1000mm
235mm
154mm
100mm
139.5
28.0
32.6
DWG
PDF
SUMP UNITS AND INSTALLATION DETAILS

Register AKVDH100MF10R
DWG
PDF
Sump Unit AKVDH100MF10RS+AKVD100I+AKVD100B
DWG
PDF
Installation details. Paver up to loading class C250
DWG
PDF
Installation details. Paver for loading class D400
DWG
PDF
Installation details. Asphalt up to loading class C250
DWG
PDF
Installation details. Asphalt for loading class D400
DWG
PDF
Installation details. Concrete
DWG
PDF