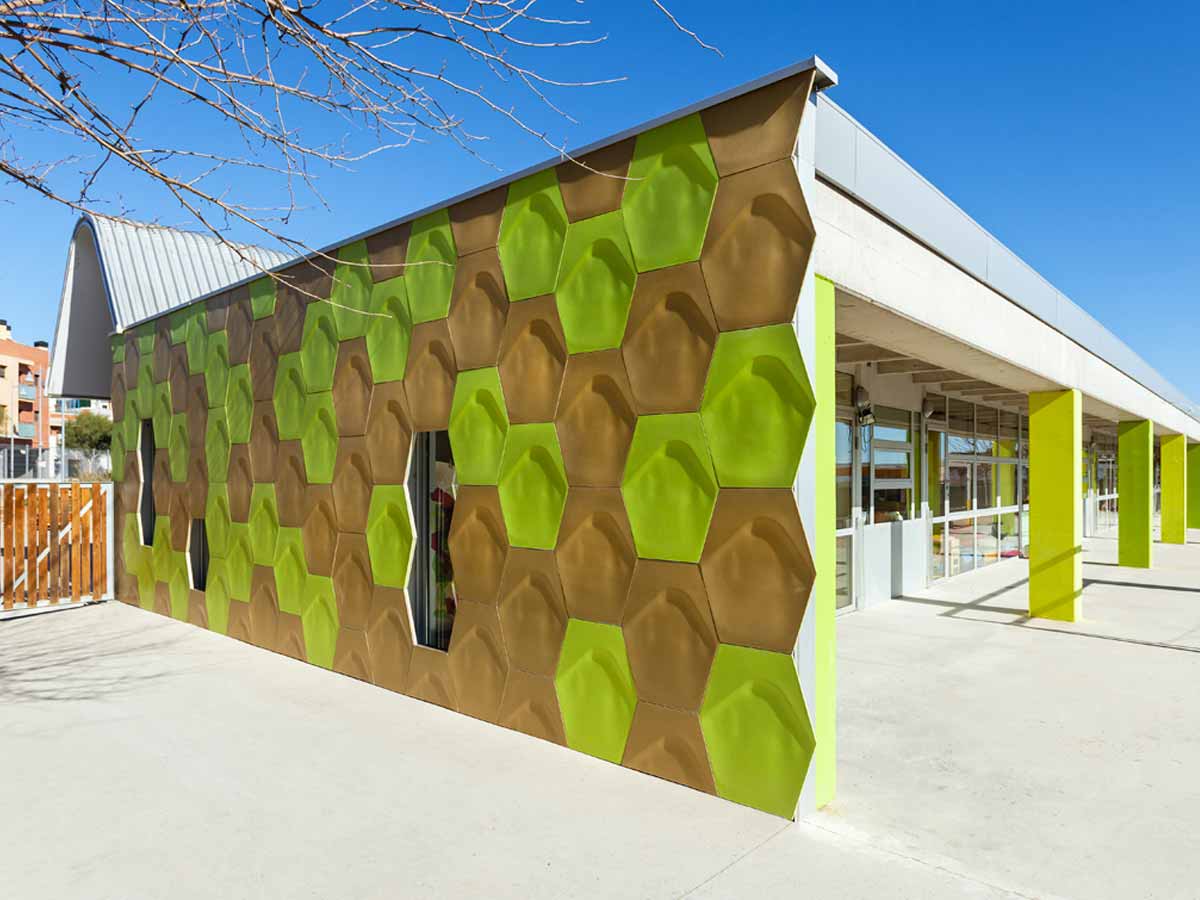 Felipe Pich AguileraThe challenge was to make a building intended to house a nursery appear like a hedge on the horizon, with the intention of creating a parallel with nature. Thus, after various trials and tests, we carried out the final design of the panel, developing an innovative ventilated facade system.
"The knowledge and in-depth study of a product, of its manufacturing processes and of its possibilities of creating systems and, more than this, the involvement and attention of the professional in the concerns of the project in its broadest sense (aesthetic, utilitarian, behavioural), have enabled us to create complicity that has gone beyond the specific solutions for a particular building", says Teresa Batlle, project designer along with Felipe Pich Aguilera.
The possibility of applying a first phase of the research in a nursery led to the development of a wall system in which a detailed analysis of natural skins was made, seeking the ideal shape, size and texture, to create an enclosure to fit the space, creating structural elements with organic forms of a continuous nature. The result was a hexagonal panel, combined with the texture of an inner pentagon in bas relief, whose placement allows many and varied composition and design possibilities. The play of light on the piece achieves a surface that changes throughout the day. The colours chosen for the facade piece, and its final placement, allowed the nursery to look like a mass of vegetation rather than a building.
TECHNICAL DATA SHEET:
PROJECT: Nursery Torressana. Tarrassa, BARCENOLA.SPAIN
PROMOTER: Department of Education of the City of Tarrassa
LOCATION: City of Torressana- Barcelona
Project management, health and safety study
Architects: Studio Pich-Aguilera
Authors: Felipe Pich-Aguilera Baurier. Architect; Teresa Batlle i Pagés. architect
Project Manager: Ivan Acevedo
Engineering facilities: RP Grup
INSTALATION: 20 days
RANGE: CREAKTIVE
TEXTURE, COLOR & SIZE: CUSTOMIZED
Ask for a quote/information