ULMA Facade Cladding System with optical effect on Santa María de la Paz Reception Centre
ULMA Architectural Solutions present in the renovation of the Madrid-based reception centre, with engineered stone Facade.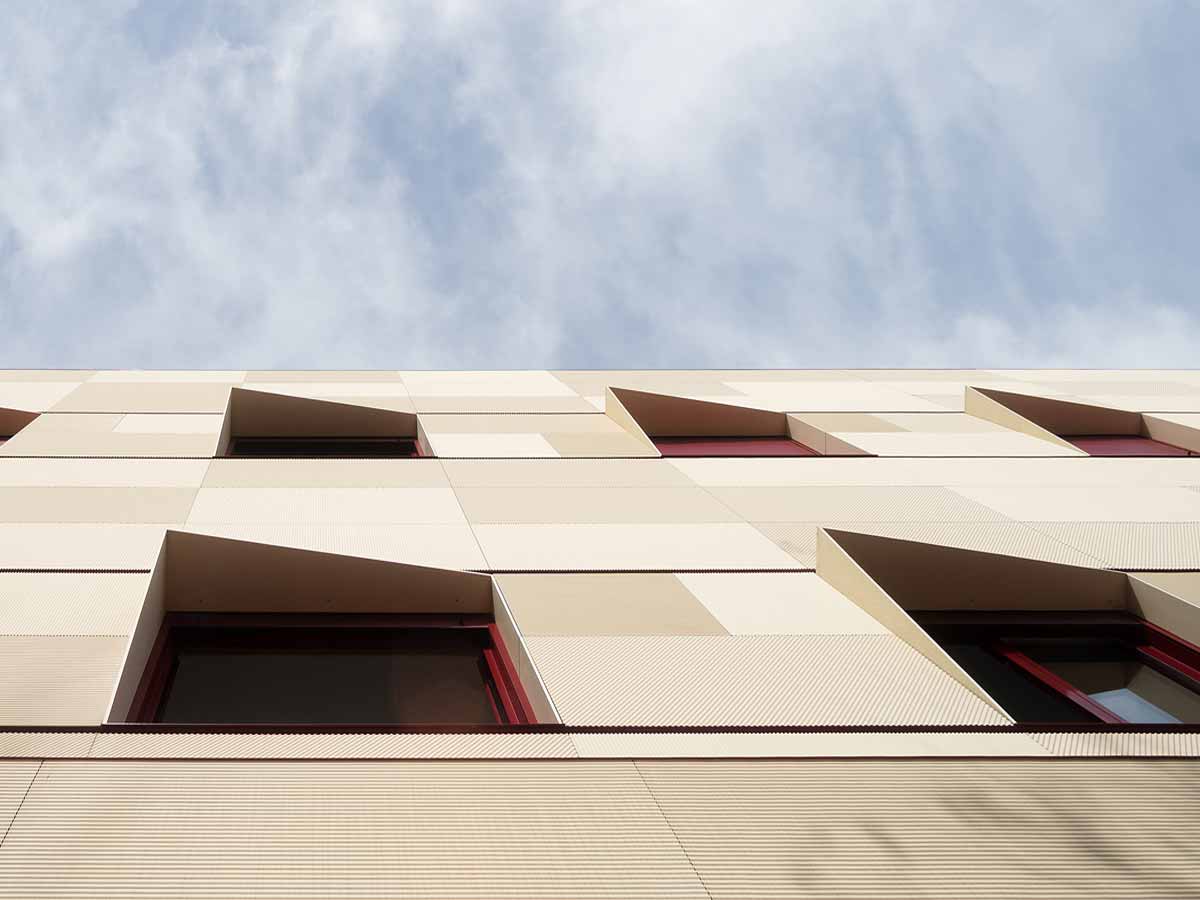 The Santa María de la Paz Reception Centre opened its doors in 1981 with the mission of providing shelter and all-round care to the homeless. At present, and within the works to replace its facilities, a Reception-Residence Centre has been built with capacity for 110 people. The project's main objective was the creation of welcoming spaces, both indoor and outdoor, given the complex personal, physical and psychological situation of the homeless people it targets.
Within these premises, the architects responsible for the project "DAU Arquitectos" aimed for "the facade's design to be attractive and, within a modular order, to be stylish and discreet, and for it to bring some joy to the users".
In this context, the WATER texture was chosen, which provides a spectacular optical effect creating the illusion that different colours have been used on the façade, when in fact there is only one colour that achieves the effect of different shades. This is possible thanks to this texture's wave finish installed in different directions (vertical, diagonal and horizontal).
Satisfaction and pride with the final result
It is the first time that this architecture studio has worked with ULMA Architectural Solutions' facade cladding system in engineered stone, "we were attracted by the possibilities of the material in terms of diversity of textures and colours and by the guarantee of a serious company with experience in the sector, like ULMA".
Once the work was finished, they were satisfied with the final result: "Yes, we are satisfied, because from the first meetings we realised that we were offered a complete constructive solution, in terms of finish material (with all its specific features) and the supporting substructure. Subsequently, the ULMA team collaborated in the modifications of the breakups made to achieve the façade's high quality finish, of which we are particularly proud."
Ask for a quote/information