Would you like to know how 55 homes can be built 30% faster and with a sustainable approach?
ESTRONCI 99 residential development with external drywall system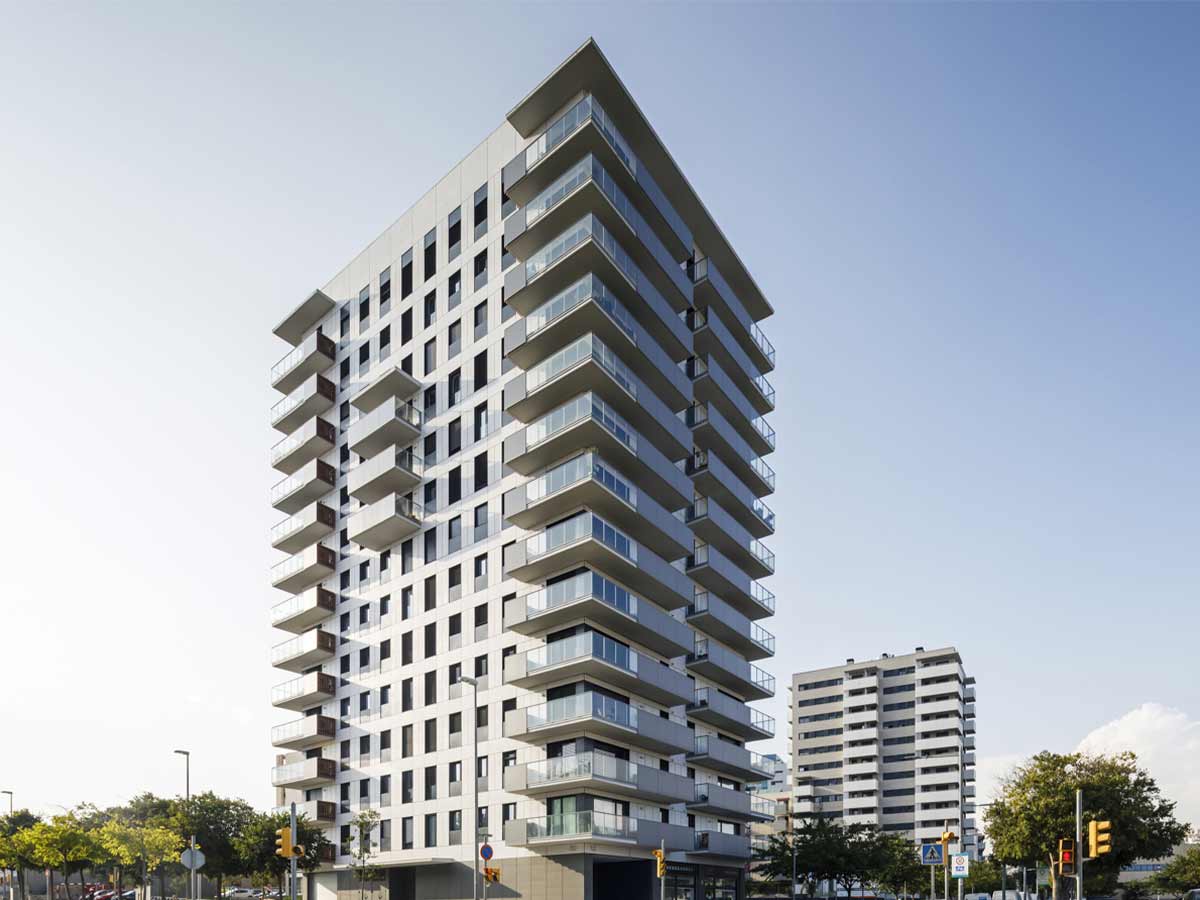 If there is one thing we are becoming increasingly clear on, it is that time is money. 
This phrase dates back 200 years, and its author was somebody – an inventor, a scientist, a politician, a writer and a businessman – who was clearly ahead of his time. We are referring to Benjamin Franklin.
He realised that time is one of our most precious resources, since no one has enough of it, and it can be neither created nor destroyed.
So, knowing how precious this resource is…
How would you like to cut project construction time by 30%?
This is possible thanks to ULMA's industrialised external wall construction system.
Discover more here:
This 55-home project in Santfeliu district in L'Hospitalet de Llobregat, near Barcelona, has been designed by Fernando Tortajada, architect and general manager at TR Grupo Inmobiliario, who is fully knowledgeable about architecture and sustainable construction.
QUICK IMPLEMENTATION
Construction is 30% quicker, since the materials are much lighter and the on-site logistics are more straightforward when using an external drywall system. Savings are made when transporting material, and there is no need for heavy equipment.
"My aim is to provide efficient, sustainable architecture that improves people's quality of life." - Fernando Tortajada, architect.
Moreover, faster implementation brings time savings when using auxiliary equipment and scaffoldings, leading to a reduction in indirect costs and, therefore, making the project more cost-effective.
AESTHETICS OF ENGINEERED STONE FAÇADES: COLOURS, TEXTURES AND JOINTS
A combination of two textures and colours has been chosen for Estronci 99 tower.
A smooth white texture has been chosen for the body of the building, and anthracite grey stone for the ground floor.
Another aesthetic feature of the façade is that 20 mm joints have been installed between panels, lacquered for integration in the same colour as the window frames.
Our system allows other options, such as the 3.5 mm, 8 mm and 15 mm joint.  The designer's choice will depend on the aesthetics in mind for the building.
"Polymer concrete is known for its aesthetics, and because it provides durability and a presence that lasts over time.  It is a resistant material and offers good finishes in a wide range of textures and colours. This brings a range of options in project design, and helps us provide a modern, contemporary aesthetic".
SUSTAINABLE CONSTRUCTION
This is the fourth project in which we have worked alongside Fernando Tortajada, and one of the main reasons he chose ULMA's industrialised external wall system is the role it plays in significantly reducing energy demand, improving the building's energy efficiency by helping cut energy expenditure and CO2 emissions by up to 30%.
It should be noted that the solution incorporates 15 cm of thermal insulation to ensure a highly-efficient thermal envelope, minimising heat loss and reducing energy demand inside the building. All this improves comfort indoors and reduces thermal bridging.
Thermal insulation with a thickness of 5 to 12 cm can be incorporated in standard systems, and even greater thicknesses can be added on request, as in this case.
The Estronci 99 tower has been designed to create a zero-consumption building with a Class A energy efficiency rating for emissions and consumption, in addition to the BREEAM GOOD Certificate. 
The developer AEDAS has submitted the building for the best energy efficiency initiative in real estate projects at the ASPRIMA SIMA 2020 awards. We wish it the best of luck.
If you have any question about our external drywall system, contact us here
Technical data sheet of the project:
DEVELOPER: AEDAS
CONSTRUCTION-RESTORING COMPANY:  BYCO EMPRESA CONSTRUCTORA, S.L.
ARCHITECT: FERNANDO TORTAJADA
ENERGY CONSULTANT: Espai Energy
SURFACE AREA: 2,300 m2 of external wall + façade
FORMAT: Mostly 900x600 m
TEXTURES: LISA Air, white M24, for the tower body.
STONY TEXTURE: EARTH, anthracite grey, for the ground floor.
JOINT: 20 mm joint lacquered in the same colour as the window frames
LOCATION:L'Hospitalet de Llobregat.
Ask for a quote/information