Residential complex in Plans D'aiguadolç, Sitges, Barcelona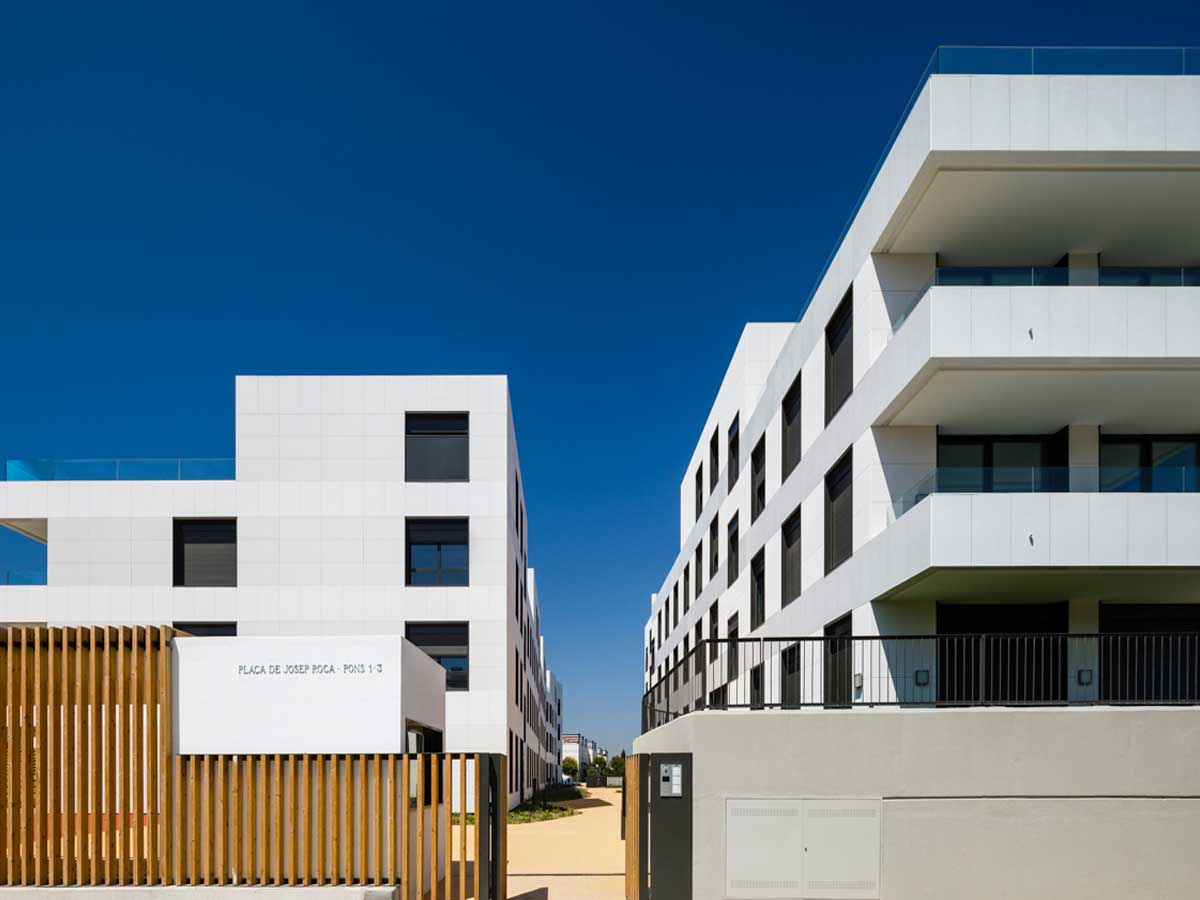 The project is to develop a complex of 48 homes in the town of Sitges, province of Barcelona. It consists of two 4-story buildings and one curious floor combining broken up interior facades and curved exterior façades. They are sea-facing and have privileged views.
This residential complex has been designed by the team of architects MSA+A formed by Adolf Martínez / Josep Lluís Sisternas, using the ULMA ventilated facade system with Stoneo panels. This system was used to create a different combination of textures with the Feel texture, with a smooth finish in the floor structures, and the Look-Water texture, in vertical wave finish between the window spans. This combination creates a very subtle optical effect that animates the facade, where white is the only colour used. The designers are very satisfied with the result of the combination of textures and particularly surprised with how the different ways the light impacts on the building changes the color tones.
The collaboration with ULMA allowed these difficulties to be satisfactorily resolved, based on strict setting-out.
The project's difficulty lay, on the one hand, in the combination of the installation systems used, the vertical system (for the Look-Water texture) and the horizontal system (for the Feel-smooth texture) and, on the other hand, the existence of two clearly differentiated facades; the sinuous and broken up interior facades, and the curved exterior facades, which aimed to reproduce the curvature and setting-out of the project and blend in with the curved and arrhythmic balcony railing system.
With the ventilated facade system we obtain the optimization of energy consumption, as it provides energy savings by reducing energy demand in a home by up to 30%, compared to other construction systems
In turn, the Stoneo panels provide unbeatable results against corrosion or wear due to pollution, giving the facade technical and aesthetic durability. In addition to providing increased comfort to the user. Thanks to the mouldability of this material, it is possible to design custom buildings in textures and colors.
Adolf Martínez tells us about his project and his collaboration with ULMA:
MSA+A includes a team formed by professionals specializing in the different areas required in the development of the projects. It can undertake construction projects, economic forecasting and management of projects, design and calculation of structures and installation , advice and certification on sustainability in architecture (BREEAM certificate), as well as the study and development of derived planning and urban management figures.
FACT SHEET:
DEVELOPER: NEINOR, S.A.
CONSTRUCTION-RENOVATION COMPANY: BETA CONKRET, S.A.
ARCHITECT: MSA+A (Adolf Martínez / Josep Lluís Sisternas, Arquitectes i Associats, SLP)
SURFACE AREA: 3343m2
PANEL FORMAT, COLOUR AND TEXTURE: Texture, Look-Water and Feel-Smooth, colour M24
COMPLETION DATE December 2018
LOCATION: CARRER DE LA DEVESA, 12.

08870 SITGES
Ask for a quote/information